GIRLS LIKE BASS
JUNE 07, 2012
GIRLS LIKE BASS - BEAM DOWN - THE ARCH UNDER THE MANHATTAN BRIDGE, BROOKLYN
BAC @ The Archway
When: 8pm
Where: Adams Street at Water Street, DUMBO
Girls Like Bass featuring Monstah Black and Jessica Lee perform in the Arch under the Manhattan Bridge with visual artist Benton-C Bainbridge (Glowing Pictures) Derek Sweeney Kesler (Novia Lighting) and Hector Perez (The ALieNatioN.)
The evening promises to be a spinning, shimmery, bioluminescent mothership of music, light, costumes and movement.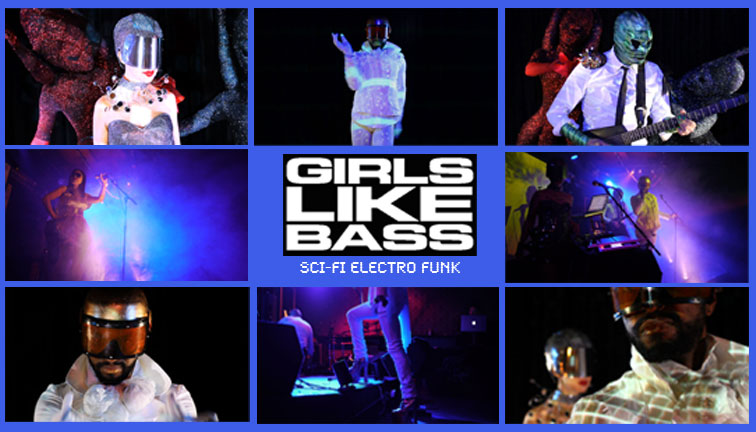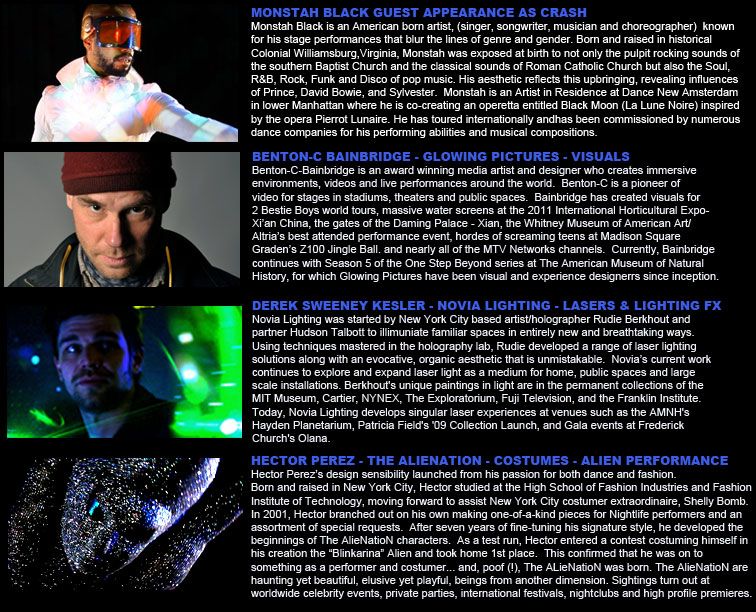 Brooklyn Arts Council's BAC @ The Archway is presented in partnership with the Dumbo Improvement District and is made possible, in part, by National Endowment for the Arts and One Dream Sound. Additional support for BAC programs is provided by the New York State Council on the Arts, the Brooklyn Delegations of the New York State Senate and New York State Assembly, New York City Department of Cultural Affairs, and New York City Council and its Brooklyn Delegation.
AUGUST 2011
GIRLS LIKE BASS performs at the R-Bar and Cin-M-Art in NYC early August. Refer to Flyer below for details.
JULY 2011
Aerostatic member Michele Darling aka Femme-Bot Lei-lani 756 unveils her new Sci-Fi Electro Funk Ensemble "Girls Like Bass" with their first music video "Systematic."
Credits:
Lei-lani 756: Songwriter/Electronics/Vocals | Lizard: Guitars/Vocals/Video Editor | Monstah Black: Songwriter/Vocals
Hector Perez (The AlieNation) Costume Design | wetcircuit: video mix and projections | Mikhail Torich: Lighting/Camera